EDDIE MULLER AT LARGE
June—July, 2015
Eddie To Host TCM's Summer of Darkness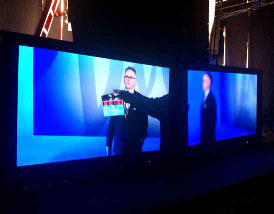 Eddie Muller will be hosting the network's "Summer of Darkness" this June and July on Turner Classic Movies. During those months TCM will dedicate 24 hours each Friday to a lineup comprised exclusively of film noir. Muller will present four movies each night during prime-time, 36 films in all, as host of TCM's "Friday Night Spotlight." In addition to serving as on-air host, the "Czar of Noir" also chose the films he'll be presenting.
"I'm grateful to TCM for the chance to share my passion for these films," Muller said. "And I'm pleased that they let me throw in the occasional pitch for the Film Noir Foundation."
In fact, Eddie will be hosting the TCM broadcast premieres of two FNF restorations, Woman on the Run (June 5) and Too Late for Tears (July 17). Some of his other selections include thematic groupings that focus on San Francisco, wartime noir, John Alton, the King Brothers, and much more. View the TCM Summer of Darkness Festival page here.
June 6
Eddie To Host TCM's Summer of Darkness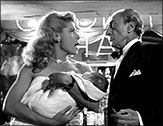 Eddie Muller will appear Saturday afternoon, June 6, at Manhattan's legendary Film Forum to host the screening of Joseph H. Lewis' Gun Crazy (1950) and sign copies of his new book! Film Noir Foundation board member and film scholar Foster Hirsch will introduce Eddie. Eddie will also stick around to introduce the Mexican noir classic Victims of Sin (2014 NOIR CITY festival audience favorite), playing as part of a tribute to cinematographer Gabriel Figueroa.
Meet Eddie and get a signed copy of his latest book, Gun Crazy: The Origin of American Outlaw Cinema. Packed with never-before-seen ephemera—original script pages (some never filmed), production notes, on-set photos—this thoroughly researched and vividly told tale explodes many of the entrenched myths about Gun Crazy as well as the auteur theory itself. Read more about Gun Crazy here.
April 24—26
Noir Festival Zagreb
HAVC - Noir Festival in Zagreb, Croatia. Go here for more information.
April 3, 4, 5, 16, 17, 18, 19
NOIR CITY Hollywood
Egyptian Theatre/Hollywood
For the 17th year, the American Cinematheque brings film noir back to the big screen in Los Angeles. For more information go here.
March 26—March 29
TCM Classic Film Festival, Hollywood 2015
The 2015 TCM Classic Film Festival returns to Hollywood March 26 - March 29, featuring great movies introduced by the the people who made them classics. For more information go here.
Follow Eddie's adventures on the
Film Noir Foundation Facebook page.